Whitby Photographers, their lives and their photographs from the 1840s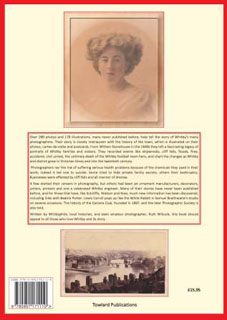 New information has been found on the most famous photographer of Whitby, Frank Sutcliffe, with new insights into his life and work, his travels abroad and a few of his letters. For some photographers such as Tom Watson and John Ross, this book expands in detail on previous studies, but for most it is a journey of fresh discovery into their lives and work.
Whitby's resident photographers have included William Stonehouse, Francis Pickernell, Samuel Braithwaite, George Wallis, John Waller, John Harrison Dawson, William Wallace Herbert, James Aston Briggs, William Henry Heming, Edmund Hall, John Tindale, plus many more who worked for shorter periods or even just for a few seasons.
Two photographic "dynasties" are represented in the town's photographic history - the Seaman family, originally from Chesterfield, who were in town for a few years, and the Doran family, who came to Whitby via London and Peterborough and stayed in business for 85 years. There is a short chapter on photographers of the district, including Henry Charles Morley of Staithes and Joseph Readman of Glaisdale.
The book is extensively illustrated with rarely seen pictures of Whitby and district and its people, many never published before.